YeloRoll
Half the Weight, Twice the Life!
Retrofit: YeloRoll retrofits into existing frames, reducing annual expenditures by 10%.
Half the Weight: YeloRoll weighs 60% less than metal can rolls and is more economical to ship.
Twice the Life: Different By Design®, provent to last twice as long as metal can rolls, 40% than HDPE rolls and even up to five times longer in corrosive and abrasive environments.
Self-Cleaning: The dynamics of the YeloRoll prevent belt misalignment by shedding material, making it an excellent choice in freezing climates and stick materials – No Donuts.
Combi-Cap Protection: The technically advanced Combi-Cap reduces bearing shock and vibration, allowing bearing to run cooler and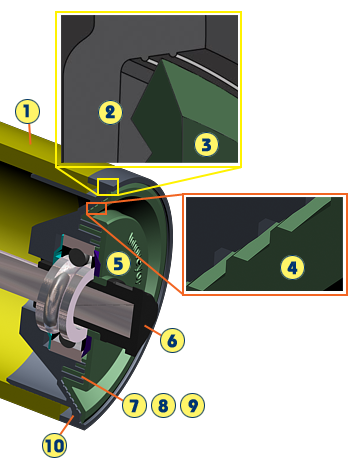 longer, eliminating corrosive dielectrics with the bearing mounted over the top of Combi-Cap rather than on the shaft and made to retrofit any frames.
Guaranteed Bearing Performance: With 50% aerospace synthetic grease fill, Peer mfg quality and performance derives from raw materials and product specification… who makes your roller bearings?
Belt Friendly: YeloRoll bearing housing is made of a flexible non-corrosive carbon fiber composite which is pressure fitted, not welded. No pizza-style cutter stopping production as with metal can rolls. The YeloRoll cylinder will not abrade your belt as fiberglass rolls do and will not melt and miss-track your belt as HDPE rolls will.
Check out YeloRoll on the Materials Handling and Logisitics web site