The Roller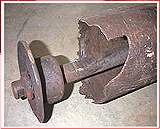 Over time steel rollers fail when their welds give-way producing sharp rotating edges, or pizza Cutters, which can cut and rip conveyor belts at a very significant cost, causing unplanned down time and bringing production to a stop.
Innoveyor Idler Rolls
Idler rolls manufactur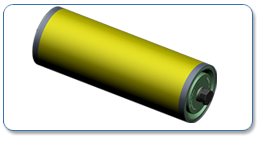 ed with the InnoFlex bearing housings do not expose steel edges that could tear or damage conveyor belting.
The InnoFlex Bearing Housings are belt friendly with no welded seams.
The InnoFlex bearing Housings are pressure fitted or friction welded into the roll cylinder.
Innoveyor provides customers with a variety of cylinder options such as:
the Ultem-It roll, having a urethane composite cylinder
the SterlingRoll has a steel cylinder;
a Carbon Fiber,
rubber and urethane cylinders
and the titanium enriched t-PVC YeloRoll.
A YeloRoll provides multiple benefits over typical HDPE rolls.
YeloRoll has the ability to grab and steer the belt the same as a metal can roll, is self extinguishing, and has 40 percent greater roller abrasion characteristics than HDPE.
HDPE has 66% less coefficient of friction than metal rolls and the titanium enriched YeloRoll
HDPE is used as a conveyor slider bed – so the belt slides over it.
If HDPE is used as a slider bed – then why would you build conveyor rolls from it?
---
And YeloRoll is MSHA Approved for underground use.