Our Mission & Commitment to Our Customers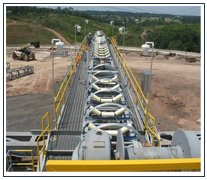 To manufacture the highest quality products, in a safe working environment, utilizing rigorous continuous improvement programs to:
PRODUCE; at the greatest economical value to our customer with highly trained personnel
SATISFY; the needs of a specialized group of Dealers, End Users, OEM's and A/E customers
ACHIEVE; maximum earnings potential for our customer and Innoveyor Inc.
Value Proposition:
Innoveyor Inc. helps our customer's business stay in business by offering YeloRoll® and composite conveyor idler solutions that reduce operating costs, increase production and prevent personal and career injuries, creating a safe and clean work environment.
Innoveyor Inc. will continually revisit the process and ensure the economics are right for both our customer and Innoveyor Inc by removing anything that increases cost with out adding the value our customer has asked for.
We cut the fat, to cut your cost!