Exalon mx Replacement / Retrofit Rolls HDPE (polyethylene) conveyor rolls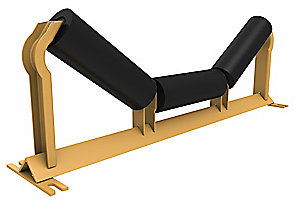 Exalon mx style conveyor rolls available at Innoveyor Inc.; Innoveyor manufactures an Exalon mx style HDPE (High Density Polyethylene) conveyor roll, quality, three year warranty, retrofit all makes, models of frames, Continental, Goodman, FMC, etc.
Exalon mx style conveyor rolls available in CEMA C, D, E and F, with special built-to-order retrofit rolls for your nonstandard idler needs.
Reduced belt damage; The smooth HDPE surface of the Exalon mx roll minimizes belt friction and wear, acting as a slider bar in the event the roll stops turning, all composite construction no steel edges, no "pizza cutter", belt run longer – production increase.
Specialty Idler Applications
Innoveyor understands standard idlers do not meet all conveyor belt needs, Innoveyor offers custom design frames and Exalon mx style rolls for your non-standard, special applications.
Contact Us
Contact us about anything related to our company or services.
We"ll do our best to get back to you as soon as possible. [ninja_form id=1]
Innoveyor, Inc.
Phone: 757-485-0500
Email: sales@innoveyor-usa.com

What our clients say…
"This letter serves to confirm that Iscor Vanderbijlpark is using both the steel and yeloroll idlers manufactured and supplied by Conveyor and Industrial Supplies.
We have been using their products in all conveyor applications.
We have been purchasing the new idlers roller "Yeloroll" with good results for our high abrasive and corrosive conveying conditions. We are completely satisfied with the performance and quality of the products supplied.
The Yeloroll is recommended for adverse and conveying condition."ISCOR